Is Your Practice HIPAA Compliant?
DO YOU KNOW WHAT THE LAW REALLY REQUIRES UNDER HIPAA?
One Small Oversight Can Have Very Big Consequences…
Compliance is about implementing mandatory safeguards and being able to document what you've done to avoid fines. Security is about using technology and infrastructure to mitigate the risk of a data breach. At the end of the day, it's how you combine the two that will decide where your practice stands.
Implementing written policies, procedures, and standards of conduct.

Have a System in Place to Collect and audit your organization

Designating a compliance officer and compliance committee.

Conducting effective training and education.

Developing effective lines of communication.

Conducting internal monitoring and auditing.

Enforcing standards through well-publicized disciplinary guidelines.

Responding promptly to detected offenses and undertaking corrective action.
We Can HELP you become compliant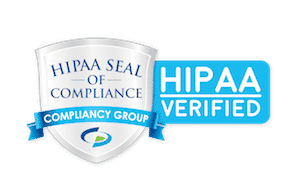 We Understand your frustration! In fact in order for Underdog to be Verified HIPAA Compliant. We had to go through the same process!
Getting your practice compliant, collecting and creating the proper documentation can be difficult on your own.
Underdog Computer and Network Support is the Only I.T. Solutions Provider in the Poconos, Stroudsburg, East Stroudsburg and Surrounding Areas that can say we are HIPAA verified Compliant and we can prove it!
Our solution includes all required audits (security, privacy, and administrative) and gaps and remediation plans, plus full compliance task management, reporting, business associate management, incident management, all policies, procedures, training, documentation, compliance coaching, and a HIPAA hotline.
Policy & Procedure Development

Risk Assessments

HIPAA Security Awareness Training

HIPAA Verification

HIPAA Seal of Compliance

Live Compliance Coaching

Audit Response Program

Business Associate Management

Incident Management

Breach Support
Pick one of our HIPAA Compliance Plans
Relax! Our Coaches will Guide you through the process.
HIPAA Compliance Checklist
4 Tips for being HIPAA Compliant in the Cloud
Or if you prefer to chat – scroll to the Bottom and you can start either a text chat or video chat with us
Years Experience in the I.T. Industry
Call Underdog Today
570-243-9205
Want to Know More
Client Testomonials
We found it very easy to work with Carmine. He gave a very clear and professional quote, he has been promptly responsive in all communications, and the network is working great. I feel very good about using his company for any future IT needs for our business.
Barton Heights had a very successful computer upgrade due to Carmine.  I met with him 2-3 months before the project and he gave us an estimate of the entire upgrade process involving 31 computers and a server.  He advised us and placed the order.  He also worked with us and ended up revising the estimate twice to completely satisfy our computer upgrade needs.  He added true value to his service as he was willing to perform the upgrade in the evening when we were closed to minimize our down time as we are a paperless business and rely 100% on our computers.  Carmine stepped up and took care of those problems as well, even though that was not his responsibility.  He always responds quickly to any issue that occurs.  I would highly recommend him to anyone!
I HAVE WORKED WITH CARMINE FOR MANY YEARS.  HE HAS DONE EVERYTHING FROM NETWORK SERVER INSTALLATION TO PROGRAM TROUBLESHOOTING.  HIS QUALITY OF WORK AND KNOWLEDGE ARE OUTSTANDING.   YOU CAN ALWAYS COUNT ON CARMINE TO WORK HARD FOR YOU.
Carmine makes you feel that you are his first concern if you have a Server down or you have a small printing question.  We have been with Carmine for 16 years and have only received quality service.
Thank you Carmine.  Will recommend you from the rooftops.
12 years in business and I have been there and done that with other IT / Computer biz, and finally found one that listens, asks questions, and comes up with a plan.

If you are having issues or just want to see if there are options for and avenues of improvement for your computer / networking needs, checkout Underdog Computer and Network Support LLC.

There are some others that are good, but I cannot express the difference enough – they actually get it! Every business IS different with different needs and processes, and they take the time to find what is best for you instead of what they think is best for you!

Thank you, Carmine J. Corridore, for allowing me to have a stress free vacation this year! I look forward to working with you in the near future for some serious upgrades!
"Underdog Computer and Network Support are amazing. They go over and above to help the small business owner Thank you Carmine for all you do"
For More Information Fill out form below